Borlase Smart - A Life in Art
Borlase Smart: A Life in Art
A comprehensive, full-colour publication, available from 6th September which will include images and details of all works in the exhibition. The publication will also feature a fascinating reappraisal of the artist's oeuvre.

Was Borlase Smart pushing the boundaries of what was accepted as the 'norm' within the definitions of traditional art? The fact that he was a great supporter of the young 'moderns' in St Ives, much to the chagrin of many established artists of the day, is well documented...

Traditional art had long been underpinned by the logic of perspective and an attempt to reproduce an illusion of visible reality. His journey towards abstraction was not a sudden, radical one, but more a subtle movement to a 'modern' style in which he found his forté, a style which was eagerly accepted by the mainstream, exhibited at the Paris Salon, the Royal Academy and countless other prestigious institutions.
Paperback: 98 pages
Publisher: lulu.com (14 Oct 2014)
Language: English
ISBN-10: 1326046659
ISBN-13: 978-1326046651
Product Dimensions: 14.8 x 0.6 x 21 cm
Order here for only £6.50 plus £2.75 postage (RRP £19.99)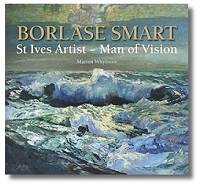 Available to purchase here
Borlase Smart: St Ives Artist - Man of Vision
Author: Marion Whybrow
Hardcover: 144 pages
Publisher: Halstar (29 Aug 2012)
Language: English
ISBN-10: 1906690413
ISBN-13: 978-1906690410
The definitive biography on Borlase Smart. The cover image is "Moonlight, St Ives" and will be included in the forthcoming exhibition.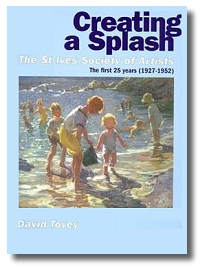 Creating A Splash - The St Ives Society of Artists - The First 25 Years (1927-1952)
Published in June 2003 to accompany the exhibition of the same title, which toured the public art galleries in Penzance, Lincoln, Doncaster, Hereford, Sunderland and Newport between June 2003 and July 2004.
Author: David Tovey
ISBN : ISBN 0 9538363 4 7
Paperback - 344 pages (A-4)
90 colour and 243 b/w illustrations
For further information see the author's website